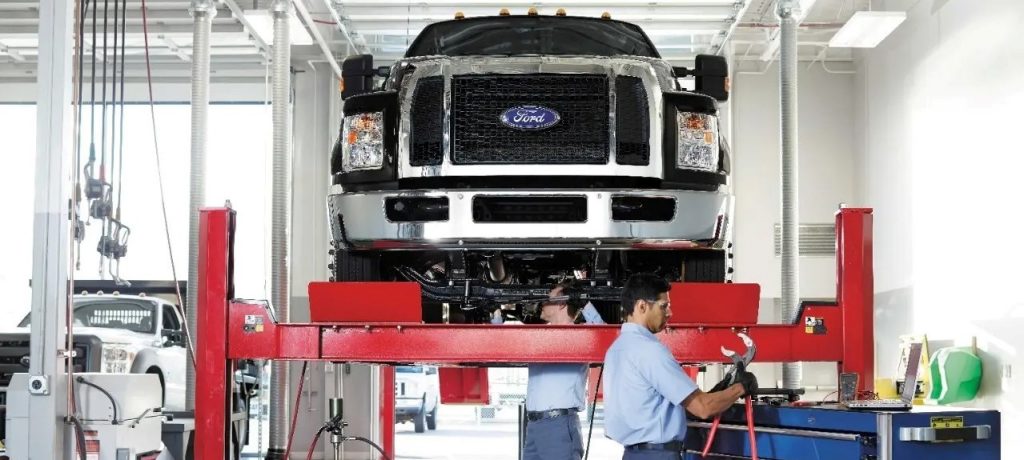 Commercial Oil Change Service in Oklahoma City
Take care of the engine of your Ford for long-lasting durability. Routine maintenance is critical to optimal performance and an oil change is one of the most important and most basic services for any Ford truck as you drive to work or jobsites in Edmond, Oklahoma City, and Moore. The service team at Bob Moore Ford Commercial will help you care for your Ford with regular oil changes.
Engine oil keeps the engine components lubricated, allowing them to move freely. It also reduces friction to prevent wear and tear and damage to your engine. The oil also removes dirt and road grime that gets into the engine and can harm its parts.
When the oil gets dirty, it doesn't move through the engine as easily. The engine has to work harder, which causes parts to wear out sooner. The filter also has an important job of keeping out dust, debris, and road grime that can harm the engine. When it gets clogged, the filter doesn't allow the oil to flow through.
How Often Your Oil Needs to Be Changed
Your oil should be changed according to manufacturer's recommendations. Most vehicles should have an oil change every 3000 to 5000 miles. If they use synthetic oil, the vehicle can go longer between oil changes. If you're in doubt, check with your owner's manual or talk to the service team at Bob Moore Ford Commercial.
If you go beyond the recommended mileage for oil changes, you risk hurting your engine. It will have to work harder and not be as efficient. Your vehicle may appear more sluggish, especially when picking up speed. You may also notice that the engine is using more fuel since it's working harder.
Delaying your oil change may not cause immediate harm to the vehicle, but it can create issues in the future. Parts will wear out faster and need to be replaced. If you fail to replace the oil for a long time, you may cause irreparable damage to the engine, causing it to need to be replaced.
Replacing an engine can cost several thousands of dollars as one of the most expensive components on your vehicle. To avoid this issue, you need to schedule regular oil changes for your Ford vehicle.
Oil Change Service with Bob Moore Ford Commercial
You can easily schedule an oil change for your vehicle with Bob Moore Ford Commercial. Go online and schedule an appointment or give us a call. You can even stop by for same-day service. Sit and relax in our waiting area while we take care of your vehicle. You can also use our shuttle to take you back to the office while we complete the oil change.
When you get your vehicle's oil changed with Bob Moore Ford Commercial, our service team will inspect the vehicle and let you know of any possible issues or repairs that will be needed.
Let Bob Moore Ford Commercial keep your Ford vehicle in prime condition with regular oil changes. Schedule service or stop in today!