Ford vehicles are an excellent option when looking to start, grow, or revolutionize your business. Ford offers a massive range of gas and electric vehicles that can change the entire face of your company, and utilizing Ford Fleet cars, trucks, and SUVS has the potential to change the entire face of your enterprise. Our company provides specialized vehicles from transit vehicles to Super-Duty trucks, and represent the best of the current Ford lineup. If your business is looking to reduce its carbon footprint, we have a ton of electric vehicles available that can handle any load or transportation needs. Our fleet services aim to stay involved in your business with Ford intelligence, helping you monitor your vehicles and keep them safe and healthy.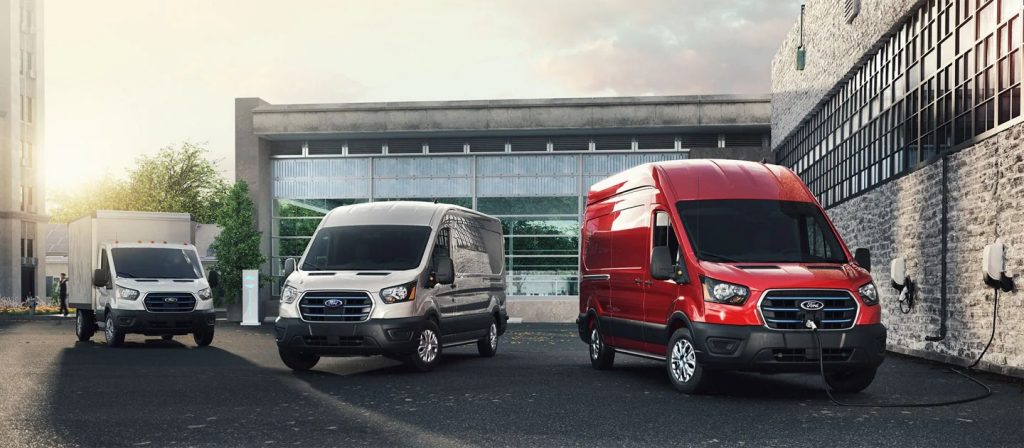 Ford Fleet Vehicles
The versatility of our available fleet vehicles can satisfy nearly any need that may arise with your business. We offer many popular Ford SUV models including the Ford Expedition, Escape, Bronco, Explorer, and many more. Our standard trucks encompass a wide range of towing capacities, passenger capacities, and fuel economies. We offer the legendary Ford Super Duty Series, which includes the powerful Ford F-450 and its high towing capacity of 37,000 pounds. Also included is diesel work trucks and tractors that can satisfy those hefty commercial load requirements. The Ford Fleet isn't only about cargo, but also offers transit vehicles and cutaways in a range of sizes. Ford keeps their fleet vehicles as versatile as possible, and offers upfitting of fleet vehicles wherever needed.
Specialty Vehicles
Ford continually endeavors to provide both private and municipal services with the absolute best their fleet has to offer. The Fleet offers specialized police vehicles that are customized for onboard equipment, tactical requirements, increased storage, and so much more. These advanced vehicles provide police forces with a range of helpful technology including larger screens, integrated laptop setups, surveillance modes, perimeter alerts, proximity alerts, and more. Ford also provides ambulances, which are highly specialized SuperDuty or Medium Duty Chassis Cabs with multiple wheelbase lengths, cab configurations, and powertrain options. The Ford Fleet also includes school busses, shuttle busses, and even motorhome chassis so no matter the need, ford has everyone covered.
Go Electric
Included in the amazing selection of vehicles under the umbrella of the Ford Fleet, Ford aims to help you reduce your organization's carbon footprint by providing a range of electric and hybrid vehicles. Available as a hybrid vehicle is the powerful Ford Maverick, a newer member of the Ford Family but the first available truck from Ford made specifically with hybrid technology. Also available as a hybrid is the Ford Escape, Lincoln Aviator, and Lincoln Corsair. Ford is soon to debut the Ford F-150 Lightning, the first ever all-electric ford F-150, that boasts high power with amazing features on an electric powertrain. Also newly available is Fords first electric transit vehicle. Enjoy state and federal benefits of utilizing electric and hybrid vehicles within your company's vehicle fleet.