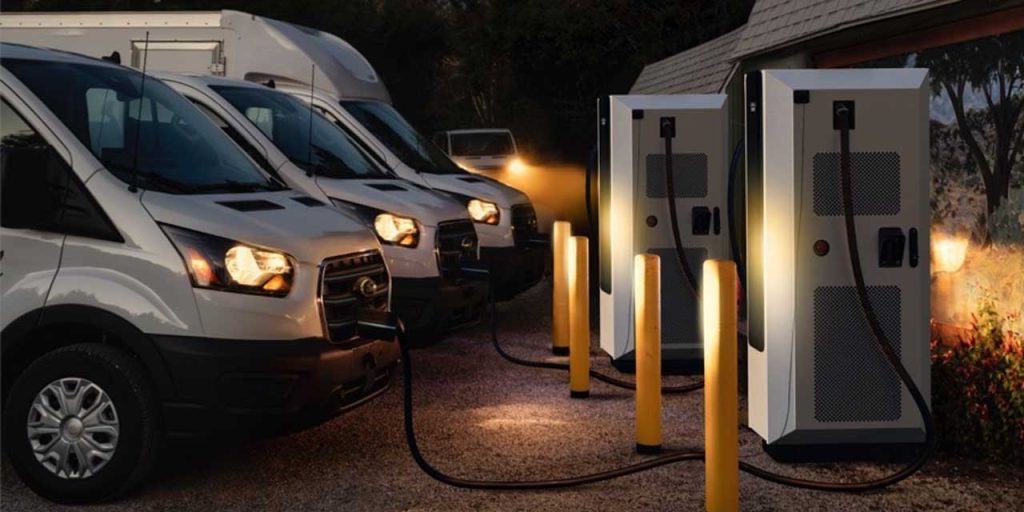 Electric vehicles are quickly overtaking the market due to tax incentives, great range, and decreased fuel costs. When you want to take advantage of these new electric models for either your business or your personal vehicle, you're going to need a way to charge them. When you're around Oklahoma City, Tulsa, or Norman, there's no better place to shop for the newest electric models than Bob Moore Ford Pro Center.
Charging At Home
It's likely that your phone is always freshly charged in the morning since you can simply plug it in and forget about it once you go to sleep. Imagine a world where your car could be the exact same way. With Ford Pro Charging, you can make that a reality, as you'll be able to install your own charging system at your home. This makes sure that you always have a full range, and if you're routinely driving within the city, you may not even have to resort to using public chargers. Nothing feels better than a full battery, and with this system, you can make sure that you're starting your morning the right way. It's also much more cost-efficient than gasoline, which fluctuates in price regularly. When you rely on electricity, you can go further for less.
Your Business
Owning a fleet can be difficult, but with the right setup, you can make sure that every vehicle is ready to go in the morning. With depot charging, you can charge multiple models at once so that your entire team is ready to go once the workday starts. You may also want to look into what Ford Telematics can do for you, as you'll be able to keep a detailed view of which vehicles have a full battery, and how efficient they are when they're on the road. With the smart charging software you'll find with Ford services, you'll be able to maximize your models' efficiency while also cutting down on overall costs. You'll be able to see multiple models at the same time, and you'll even receive real-time updates as the day goes along. Ford Telematics also gives you the ability to see your fleet's health, alongside each individual vehicle's current route thanks to GPS tracking. When you need intelligent systems for the job, you're going to want to rely on the many services offered by Ford.
Public Charging
If you do have to end up charging your model when you're on the road, you'll be happy to know that charging networks are quickly expanding across the nation. You'll have access to the BlueOval Charge Network, which offers over 75,000 unique plugs across the country. Regardless of where you are, it's almost certain that one is near. If you're located in an area that doesn't have a charger, you can rest easy knowing that in the coming years, there's bound to be a new location. When it comes to keeping your vehicles charged and ready, Ford has you covered, whether that's at home, the job site, or out in public. When you rely on a Ford fleet, you can be sure that you're prepared for what's ahead.
When you want to customize your fleet with cutting-edge vehicles, you're going to want to visit Bob Moore Ford Pro Center, where you can finance your next vehicle.