When it comes to trucks on the market, Ford and Chevy are among the leaders of quality trucks. Both Chevy and Ford produce solid heavy-duty trucks, with the capacity to tow and haul thousands of pounds, but how do they compare to each other?
Powerful Engine Options
Truck enthusiasts like to have engine options that suit their needs the best and both Chevrolet and Ford seek to meet that need with their heavy-duty models. Ford offers three engine options compared to Chevy's two.  Ford's top-notch diesel engine is the 6.7L Power Stroke V8 Turbo Diesel that offers 475 hp with 1,050 lb.-ft. of torque, while Chevy's top-notch diesel engine for its class is a 6.6L Duromax Turbo Diesel engine that comes in with 445 hp with 910 ft.-ft. of torque. If towing power is what you need, Chevy's 6.6L Diesel engine can handle up to 18.500 lbs. with its towing capacity, while Ford's 6.7L Diesel can tow up to 22,800 lbs. Ford's payload capacity is also higher, an F-250 can carry a payload of 4,160 lbs. while Chevy's Silverado 2500 hits about 3,979 lbs.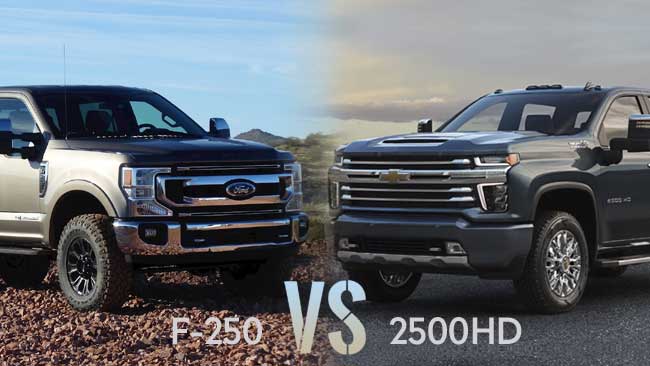 Technology Usage
Most vehicles today come with standard technology packages to keep you connected, however some technology features also mean more cost if it's an add-on for your model. Ford has more standard technology features with the 2021 Ford F-250 than the 2021 Chevy 2500 such as: standard smart device integration to connect your phone to your truck's touchscreen, automatic parking assistance which automatically reads the space you are trying to maneuver into when parallel parking. You can initiate hands-free steering and your truck will get you into position while you control the pedals and transmission. Remote engine start allows you to start the engine ahead of time on those cold frosty days. Ford's F-250 also offers a standard power liftgate which is not available on the similar trim of the Chevy Silverado 2500. 
Safety Features and Technology
Other technologies that are standard on the 2021 Ford F-250 but are optional on the 2021 Chevy Silverado 2500 include: lane keeping assistance, which helps keep you in your lane but provides a warning which alerts you if you begin to drift into another lane. Brake Assist (also not available with the Silverado 2500 base trim) determines circumstances in which emergency braking is needed by reading the speed in which the brake pedal is depressed and when you brake in a panic, the brake assist function provides a maximum brake boost in order to correct a driver's effort to brake without the proper force. Ford's driver assistive technology edges out Chevy when it comes to the trucks in their heavy-duty class.
When you need a new heavy-duty truck, come to Bob Moore Ford Commercial and look at what the newest Ford F-250 has to offer you for your next heavy-duty work truck. To find out more, call or come by today!