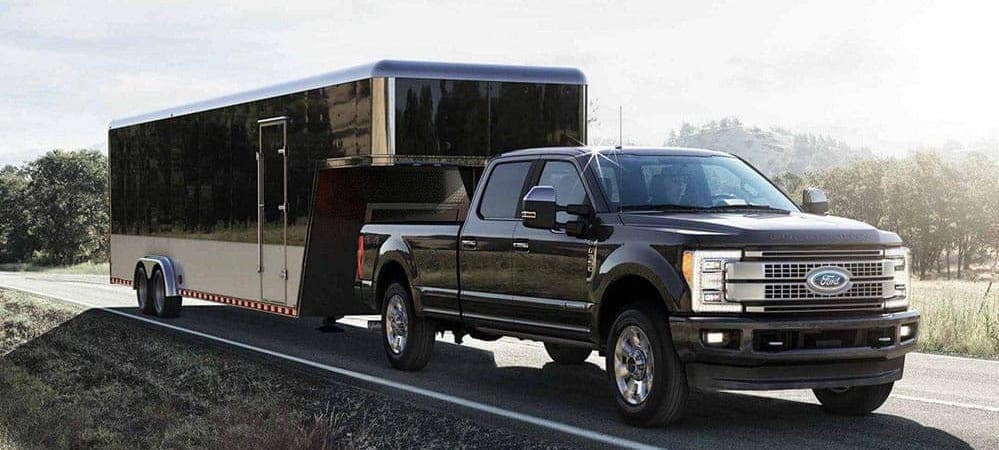 The Ford F-250 is an outstanding addition to the Ford Super Duty Family, which includes not only the F-250 but also the F-350 and F-450. While each version has their benefits, the F-250 draws the huge advantage of being a great choice for both commercial and personal use. While the other two truck options have an impressive towing capacity, the capability of the F-250 rises to nearly any occasion when it comes to your towing needs while saving at the dealership. The F-250 provides a range of configurations to best match its intended purpose, and gives you the freedom by pulling its weight as your next outstanding truck.
Engine Options
The Ford Super Duty F-250 has a selection of engines to choose from when customizing your purchase. Each engine determines the power output of your vehicle, and thus impacts your towing and payload capacity. The 6.2L Flex-Fuel Gas V8 Engine gives you a total of 385 horsepower and 430 lb-ft of torque. Your mid-range option for the F-250 is a 7.3L DHV PFI V8 Engine. The most powerful option within the choices of the F-250 is a 6.7L Turbo Diesel Powerstroke V8 Engine. Each engine option is a testament to high-performance, and can be coupled with a ten-speed automatic transmission, or an eight-speed transmission with the 6.2L V8.
Towing Power
When properly equipped, your Ford F-250 becomes a high-performing powerhouse, making the truck a great option for towing those heavy loads. With the available gooseneck trailer hitch and 5th wheel towing options coupled with the 7.3L Engine gives you the highest towing capacity of 22,800 pounds. These options as well as available accessories are offered straight from Ford Super Duty manufacturing and Ford Custom Accessories. The 6.7L V8 is a diesel powered engine that has a maximum horsepower of 475 with 1,050 lb-ft of torque. Other configurations still give F-250 drivers a ton of towing power, which range from 16,000 pounds to 19,000 pounds, which covers a huge range of towing needs. In addition to powerful towing the F-250 has a maximum payload capacity of 4,260 pounds, perfect for your cargo hauling needs.
Configuration Options
There is a lot to choose from when it comes to finding your perfect Ford F-250, but luckily the options are easy to accommodate a large family, high towing needs, and the ability to work on the go. Choose between the available cabs including a Regular Cab, a Super Cab, and a Crew Cab. The Regular Cab is a three-seater, and the Crew Cab and Super Cab can easily sit six people comfortably. The Crew and Super Cabs provide ample amounts of head, hip, and foot space. You can also choose your bed's length, with options for a 6.75 foot bed or an 8 foot bed. The F-250 also comes available with five selectable drive modes, which you can easily change depending on your terrain, hauling requirements, and more. The Tremor Package gives you a specialized Rock Crawl Mode on top of various off-roading features.