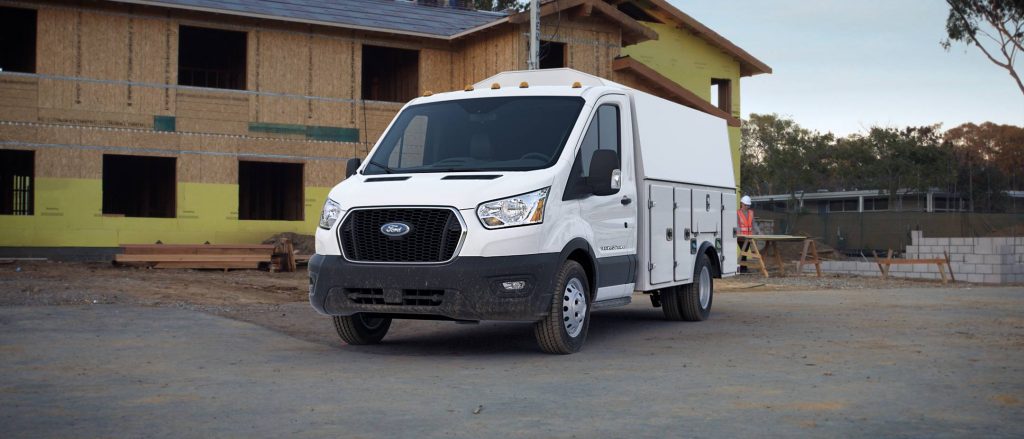 One of the top-selling commercial vehicles on the market is the Ford Cutaway. This variation on the popular Ford Transit Van allows you to equip your transit with a variety of packages to suit the work you do. The new Transit has a choice of responsive gas engines to choose from to fit the job you need. Available options like all-wheel drive and driver assistive technology boost your confidence in the safety of your vehicle as you drive. Stop by Bob Moore Ford Commercial to see what is available in your new 2022 Ford Transit Cutaway.
Performance
The 2022 Ford Transit Cutaway offers two engine designs to choose from when you are looking for the right version to fit the job. There is a choice of either the 3.5L PFDi V6 engine or a 3.5L EcoBoost V6 engine. Couple either one with a 10-speed automatic transmission and you are ready to roll out. The PFDi engine configuration boasts 275 hp with 260 ft.-lbs. of torque. The EcoBoost engine has an impressive 310 hp with 400 lb.-ft. of torque and delivers performance usually seen in a larger engine. The reason for this is due to two features: direct fuel injection and twin turbochargers that provide a power surge with virtually no turbo lag. In addition to the engine choices, you also have advanced handling, traction capabilities and an intelligent AWD system. There are also a variety of payload ratings available to meet your business need, whether you need greater gross vehicle ratings or dual-rear-wheel models. You can have payloads that range from 9,070 to 11,000 lbs.
Ford Versatility at Your Disposal for Whatever the Business Need
The 2022 Ford Transit Cutaway has multiple payload specialty packages to adapt your vehicle to the job you need it for. For example, choose from packages like a motorhome prep package for a Class C motorhome, a school bus prep package, a shuttlebus prep package, an ambulance prep package, a parcel delivery package and more. You can outfit the rear end of your Transit for whatever your business requires. The Transit is already equipped with an upfitter interface module to connect devices or other electrical equipment to CAN buses or ports and program switches to operate after-market installed equipment like cranes, lift buckets, snowplows, and salt spreaders with up to nine digitally configured inputs. There are even high capacity upfitter switches (2 20 amp and 2 40 amp) with fuses and relays to provide you with the convenience of connecting accessories like winches, two-way radios, and lights.
Safety and Driver Assistive Technology
Ford's Co-Pilot 360 system gives you great driver assistive technology options with the 2022 Ford Transit Cutaway, such as auto high-beam headlamps, lane keeping system, intelligent adaptive cruise control, pre-collision assist with automatic emergency braking, forward collision warning, post-collision braking, 360-degree camera, adjustable speed-limiting device, hill start assist and more. You will also get the SYNC 4 12-inch touchscreen interface to give you control of all the innovative tech in your Transit.
To find out more about options available to you in the 2022 Ford Transit Cutaway, stop by Bob Moore Ford Commercial and let us help you get model and configuration that will fit your business needs.