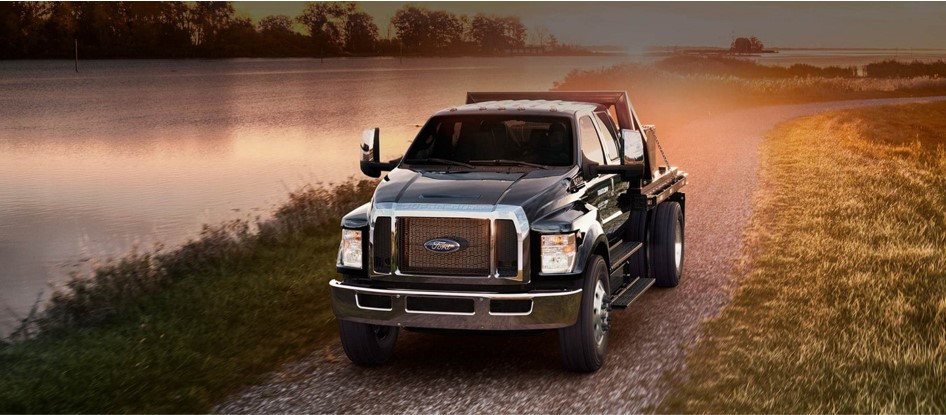 2022 Ford F-650 and F-750 at Bob Moore Ford Commercial
If you are in the market for a solid work truck for tackling big jobs around Norman and Moore, Bob Moore Ford Commercial has what you need. Take a look at the 2022 Ford F-650, voted Medium-Duty Truck of the year by Work Truck Magazine, and you will see how this truck has the power you need to get the job done. Also available is Ford's medium-duty work truck the 2022 Ford F-750, and both models have a generous amount of power for what you need to get done.
Power to do the Hard Work
The 2022 Ford F-650 and F-750 trucks can do the work to get the job done. These trucks are equipped with gas or diesel engines, depending on the work you do. Both models are equipped with a class-exclusive 7.3-liter V-8 gas engine available that delivers 350 HP with 468 ft.-lb. of torque. Choose the PowerStroke Turbo diesel V-8 with Ford's Torque shift HD 6-speed automatic transmission to get down to work.
Versatility for the Job
2022 Ford medium duty trucks are built Ford Tough to tackle tough jobs as efficiently as possible. With features like live-drive power takeoff provision with mobile mode and with several easy uplifts available, these trucks give you the versatility you want in a truck. Both models have a work ready frame and with leading upfitters, you can customize your truck with an array of work specific fittings, such as toolboxes, lifts, fuel tanks, hydraulic lifts and dump beds.
Comfortable Interior
You already know you are getting a powerful truck in your F-650 or F-750 line, but in today's models, you also get some great interior features and technological function to make your workday easier. If you know your F-150 and F-250 comforts, you'll find the 2022 Ford F-650 and 2022 Ford F-750 cabs provide the same level of comfort you can get in a smaller, full-sized pickup. For example, you'll discover that there is legroom suitable for any driver regardless of size. The seating is designed to be supportive so you can do the job and save some wear and tear on your body. Gauges are easy to read and your controls easy to access and the large steering wheel has multi-function switches, so you can focus more on the road while you work.
Technology to Entertain and to Work
One great perk when you purchase from Bob Moore Ford Commercial is the fleet service technology that is available with Ford Telematics and Ford Data Services. These features allow you to track your fleet vehicles and monitor usage. Ford Telematics is software that provides manufacturer grade information at your fingertips to utilize your assets with GPS technology, monitor vehicle health, optimize operation costs, protect your fleet and improve driver performance. Ford Data Services tracks and monitors your data like updates to your vehicle when available, security management, processed vehicle data and integration with other third-party tools. Other technology is available like driver assistance packages that include auto high-beam assist, pre-collision assist, automatic emergency braking, lane-keeping alert, and more. Lots of technology available to help with work or help you get through the workday.
Come by Bob Moore Ford Commercial and explore the 2022 Ford F-650 and 2022 Ford F-750 truck options that are available for your business.