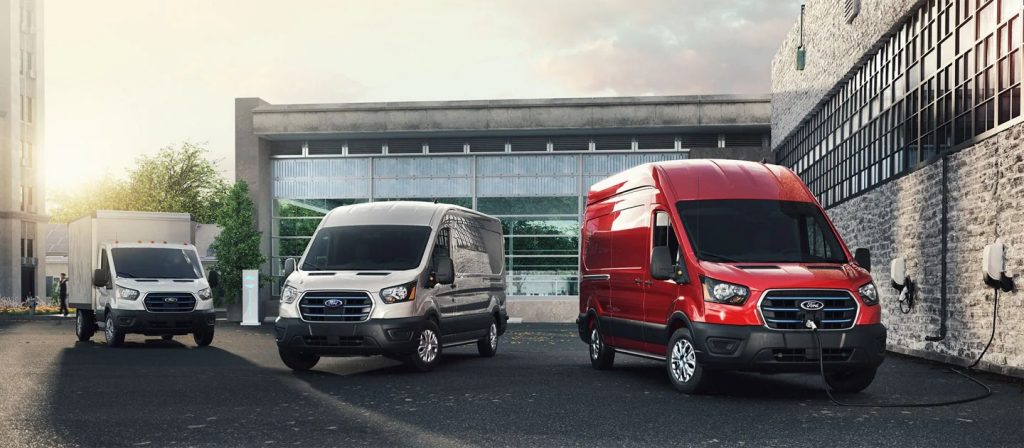 With the new 2022 Ford E-Transit, you can have all the benefits of owning a Ford commercial vehicle with the added bonus of electric power and efficiency. To learn how this all-electric commercial vehicle can improve your business, come by Bob Moore Ford Commercial near Oklahoma City, Edmond, and Norman.
All-Electric Power
Lead your business towards the future by choosing the new 2022 Ford E-Transit as your next commercial vehicle. There are so many benefits of going electric, especially if your business requires the use of commercial vehicles on a regular basis. Not only are electric vehicles better for the environment, but they are also better for your wallet. The Ford E-Transit will help you save money in more ways than one. For example, it will allow you to cut back on scheduled maintenance and reduce your operating costs. 
A Smarter Way to Charge
The charging needs of a business with electric commercial vehicles might look different than those of an individual driver. That is why Ford has designed multiple ways to make charging more efficient for the 2022 Ford E-Transit. To make charging quicker and more convenient, the E-Transit has a feature called Plug and Charge that will pull up your payment and vehicle information as soon as you plug in. You'll also have access to North America's largest public charging network which will save you time and make finding a charging station easier. To learn more about the E-Transit's charging options, like home charging, give us a call at Bob Moore Ford Commercial.
Designed to Work for You
The 2022 Ford E-Transit is more than just a commercial vehicle, it's a blank canvas that can be tailored to fit your specific business. Whatever your needs may be, there's an E-Transit for you. It comes in three different roof heights and three different lengths. If a cargo van isn't the right vehicle for your business, consider choosing the chassis cab or cutaway models of the E-Transit. When it comes to payload, on the cargo van low roof with a regular wheelbase, you can carry a targeted 3,800 pounds. The chassis cab has a targeted payload of 4,250 pounds, while the cutaway's payload is 4,290 pounds.
Clever Technology
Technology is an important part of any business. It can greatly affect your business's communication, efficiency, and productivity. The 2022 Ford E-Transit is full of upgraded tech to make your job easier. The standard 12-inch touchscreen is where you can access important